Mandarin is a secondary antagonist in the television series, Super Robot Monky Team Hyper Force Go! He is a minor player in the second Disney Vs Non Disney Villains War, acting as a member of the Skeleton King's alliance.
Disney Vs Non Disney Villains - Part Two
Mandarin takes part in the Skeleton King's assault upon China. The Skeleton King orders him to kill the Huntsgirl. Though the Huntsgirl hits him with her staff, he insults her fighting style. His laughter turns to agony, as a bolt from the Huntsgirl's magic bow slices off his arm. Screaming in pain, he falls to his death in a river.
Disney Villains War 3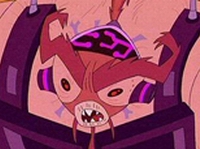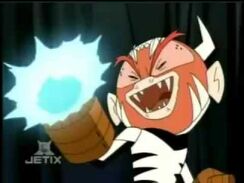 Disney Vs Anime Villains War
Disney Vs Anime Villains War - Part Two
Ad blocker interference detected!
Wikia is a free-to-use site that makes money from advertising. We have a modified experience for viewers using ad blockers

Wikia is not accessible if you've made further modifications. Remove the custom ad blocker rule(s) and the page will load as expected.