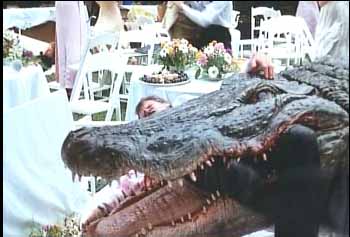 Ramon the Alligator
Full Name:Ramon the Alligator
Alias:Alligator,Gator
Origin:Alligator
Occupation:Mutated Alligator
Powers/Skills:Adapt swimmer,armor,teeth
Hobby:Killing People
Goals:Kill Everything
Type of Villain:Animal Villain,Mutation

A Baby Alligator is Flushed down a Chicago toilet and survives by eating discarded lab rats,injected with growth hormones.The Small animal Grows gigantic,escapes the city sewers,and goes on a rampage.
[Alligator(Film) ] Alligator is a 1980 monster movie,directed by Lewis Teague with a screenplay by John Sayles.It Stars Robert Forster,Robin Riker and Michael V. Gazzo.It Follows the attempts of a police officer named David Madison and a Reptile expert named Marisa Kendall to stop a deadly giant alligator that is killing humans in the sewers of Chicago.
The Film received praise from critics for its intentional satirizing and,in 1991,an apparent sequel was Released,titled Alligator 2

The Mutation.Despite the title,this film shared no characters or actors with the original,and the plot was essentially a retread of the first film.
Ad blocker interference detected!
Wikia is a free-to-use site that makes money from advertising. We have a modified experience for viewers using ad blockers

Wikia is not accessible if you've made further modifications. Remove the custom ad blocker rule(s) and the page will load as expected.