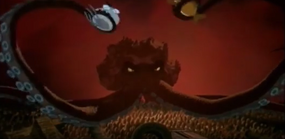 The Octopus is a sea creature, formely occupied by Professor MacKrill, and currently spending it's living on the ocean. Featured as a minor nuisance in the animated movie, Help! I'm a Fish, the Octopus itself does not make a physical appearance. Yet, it's archive footage is used for the sea-witch, Ursula, during her fight with Fly and his friends, in the final events of Heroes vs. Villains War.
Ad blocker interference detected!
Wikia is a free-to-use site that makes money from advertising. We have a modified experience for viewers using ad blockers

Wikia is not accessible if you've made further modifications. Remove the custom ad blocker rule(s) and the page will load as expected.