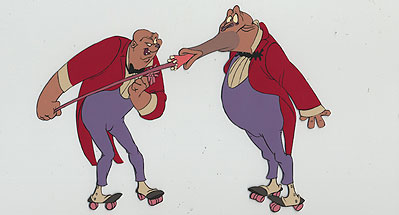 The Schlepper Brothers (Toad, Sleazy, and Zip) are the henchmen of Mok Swagger. They are minor players in the Disney vs Non Disney Villains Wars.
Disney Vs Non Disney Villains War
Disney Vs Non Disney Villains War - Part Two
The Schlepper Brothers' main task, while Mok prepares his return, is guarding the rock star's super computer. Mok's fears are vindicated; the Beagle Boys plan to steal the computer for Maleficent. The Schlepper Brothers encounter the minions, attempting to use Mok's mind-controlling Edison balls on them. The music fails to affect the Beagle Boys, who attempt to fight back. Toad, the smartest of the group, activates the base's lasers and trapdoors, putting an end to the heist.
Disney Vs Non Disney Villains War - Part Three
Non Disney Villains Tournament
Heroes Vs Villains War
Non Disney Heroes Vs Villains War
Ad blocker interference detected!
Wikia is a free-to-use site that makes money from advertising. We have a modified experience for viewers using ad blockers

Wikia is not accessible if you've made further modifications. Remove the custom ad blocker rule(s) and the page will load as expected.